PRODUCT OVERVIEW & FEATURES
Beacon Morris brings years of manufacturing and engineering experience to its cabinet unit heater offering. Cabinet unit heaters are available in several configurations allowing application flexibility.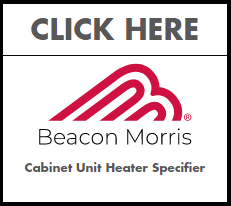 COMMON APPLICATIONS
Classrooms
Hallways
Lobbies
Waiting Rooms
Churches
10 MODELS – 28 ARRANGEMENTS – 8 CFM SIZES
Our wide selection of floor, wall and ceiling units with a variety of air flow arrangements allows for exactly matching design requirements.
Floor Type
Floor Type Inverted Flow
Floor Type Slope Top
Floor Type Slope Top Inverted Flow
Wall Type & Inverted Flow
Recessed Wall Type & Inverted Flow
Ceiling Mounted
Recessed Ceiling Mounted
Units come in a neutral eggshell baked enamel prime coat that is easily painted to match décor. Beacon Morris also offers several optional factory applied custom colors. The standard 16-gauge front panel is durable enough to withstand the harshest environments. Back and side panels are 18-gauge. Our solid state speed control provides infinite variations from high to low speed, giving the occupant custom control over fan speed and room temperature.
FEATURES & BENEFITS
Adjustable Wall Seals
Copper Aluminum Coil for Steam or Hot Water
Whisper Quiet Blowers
Baked Enamel Powercoat Finish
16-Gauge Insulated Front Panel
Permanent Washable Filters
Permanent Split Capacitor Motors
Steam Coil tested to 250psi
Ease of Service Access Areas